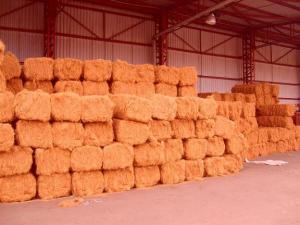 Kindly send us your email address in order to serve you detailed informations with photos about our products.
Thank you so much for your interest to showing in our products.
We are the Leading Exporter of Coconut products like various qualities of Coir Fibers, Coir Twine, Twisted Coir Fiber, Coconut Shall charcoal,Coconut Peat and Natural Fibers like Sisal fibre,etc.
We started to market our products in the India's domestic markets, past few years we are dealing eastern Asia and international market, now we are aggressively dealing international market based our hub in Malaysia, and we are the major manufactures in the coconut materials. Our present monthly production capacity of various products manufacturing by us is 1000MT to 1200MT
Our full-fledged production facility situated in southern Indian parts is the heart of the long and flourishing coconut belt in the Indian subcontinent and also in Malaysia.
Our Major exporting destination is china, currently we are exporting every 30 days 8 to 12 40'HC FCL to china.
Our Basic COCO FIBRE Specification as Follows,
Product: Golden & white & Brown color Coconut Fibres
Quality: High Quality Export
Moisture: 4% to 15% quality depends
Impurity: 3% to 7% quality depends
Length: 5cm to 30 Cm
Packing: 100kg to 105kg bales
Quantity/Container:18 Mt's to 22Mt's/40' HC in 105KG bales
Capacity:700 MT per month various fibers
Note: @ the time of shipment our moisture level is reducing with above percentage. Please refer the moisture certificates herewith attached for our quality proof.
The Above Lap Test Specifications we met for past few years without any fails.
We can supply you to the following products;
* Sisal Fiber Rope
* Sisal Fibers
* Coconut Fibers
* Coconut Fiber Rope
* White FIBRE
* Organic Pith Soil Conditioner
* Low EC Peat
* High EC Peat
* Coconut Shell Charcoal
* Tamarind
* Cardamom
Please feel free to contact us for further contracts or inquiry; we will do our best to assist you. Thank you for your consideration. We are looking forward to receiving your favorable reply.